Factories to Calories Food Tour of Fulton Market for UChicago Alumni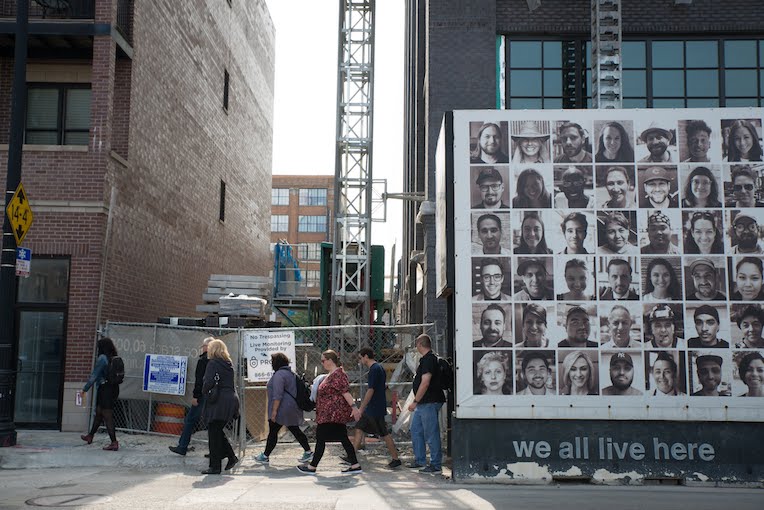 Duration: 120 Minutes (approx.)
Location: Chicago, IL
Product code: FULTONMARKETUC
Join fellow University of Chicago alumni on a cultural food tour by foot to discover the dramatic transformations in one of Chicago's most rapidly booming neighborhoods. Over the course of this two-hour excursion, you'll spot hidden architectural details that reveal Fulton Market's meatpacking past, and sample foods that showcase its trendy, gourmand present.
Special for UChicago Alumni, we are offering this tour at a discounted price.
"FACTORIES TO CALORIES" WALKING TOUR DETAILS
We call our Fulton Market food tour the "Factories to Calories" tour because of the area's shift from a place of production of appliances, furniture and meat products to a hub of consumption of food and drink. This neighborhood walking tour starts with a grand view. You'll see the train and highway systems that made the Fulton Market neighborhood into a vital industrial and meatpacking district. From there, we're off on a one-mile jaunt through a neighborhood defined by change.
Tour guests will sample some of the culinary delights of Fulton Market without feeling overstuffed. You'll taste artisanal deli meats from Publican Quality Meats and half of the signature sub at J.P. Graziano, a family-owned shop in its third generation. The neighborhood tour finishes with pickles and a craft beer sample at Haymarket Pub & Brewery. Please keep in mind that this is an educational tour, and the foods are used to help tell the stories of this neighborhood. We will eat a light amount and most of all learn!
Until very recently, Fulton Market was a gritty meatpacking district. You'll see the historic Fulton Market buildings that housed 19th-century meat and produce vendors. Today, of course, they're home to an array of high-end restaurants. We'll discuss how even the streets and sidewalks themselves were designed to aid the often grisly work of butchering and processing meat.
Beyond that, this UChicago alumni event explores just how quickly the neighborhood has changed and gentrified. As recently as the '80s and '90s, Fulton Market was home to underground parties, drug busts and low-rent art galleries. Today you will find high-end retailers and headquarters for corporations like Google and McDonald's.
And how did this all happen?! Your professional tour guide will talk about how the city of Chicago eased the way for all this development over the past 20 years. As we walk through the neighborhood, we will see active demolition and construction. Finally, we'll discuss the infamous Haymarket Affair and labor history with drinks and snacks at the eponymous brewpub, allowing you time to mingle and network with the always charming community of UChicago Alumni.
Chicago Detours Guide and UChicago alum Alex Bean will lead this walking tour. Our events with UChicago alumni sell out quickly. This is limited to 14 guests. We advise you to book asap if interested! OR IF YOU CAN'T MAKE IT, WE OFFER THE FACTORIES TO CALORIES FULTON MARKET FOOD TOUR REGULARLY TO THE PUBLIC. SEE PUBLIC TOUR SCHEDULE HERE.
Fulton Market Tour Highlights
A grand view of the railroad tracks and surrounding industrial buildings
Redeveloped meatpacking facilities, now trendy restaurants
A giant cold storage facility, now Google offices
"Gourmet Food Trend Row"
The striking art deco Richter Foods building
Hidden clues in the landscape tied to the meatpacking past
Walking Tour Stories and Ideas
Chicago's meatpacking history and the role of Fulton Market
Impact of transportation infrastructure on neighborhood identity
The industrial neighborhood disappearing before our eyes
Family businesses and traditions
Urban renewal and redevelopment
Labor history and the Haymarket Affair
Tour Includes
Engaging tour guide commentary
Artisanal deli meat sample from Publican Quality Meats
Beverage and half-size signature sub at J.P. Graziano
Sample-size glass of beer and pickles at Haymarket Pub & Brewery
All gratuities for servers
Special gifts
Tour Location
We start inside Stumptown Coffee Roasters at 311 N Morgan St. Parking recommendation will be included in your confirmation email.
We end inside the Haymarket Pub & Brewery at 737 W. Randolph St.
Walking Distance: 1 mile