Holiday Walking Tour of Daleys, Dead Guys and Drinks for UChicago Alumni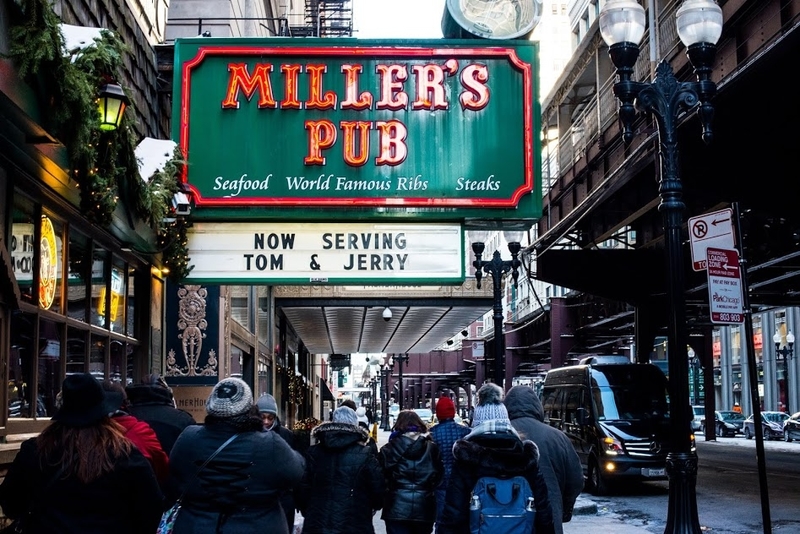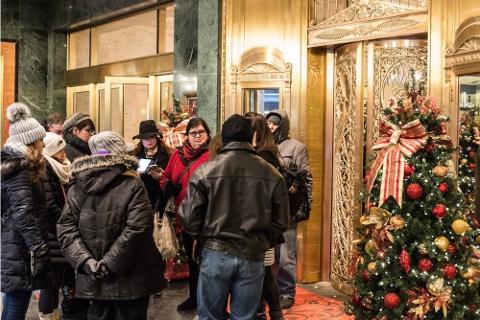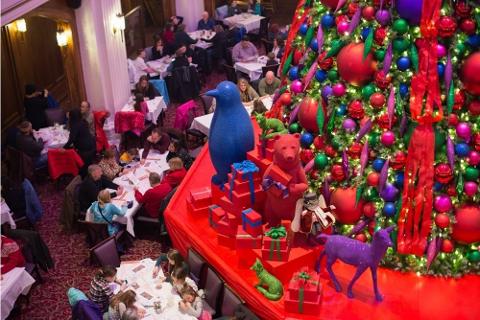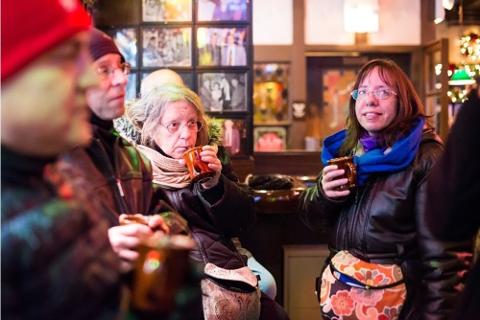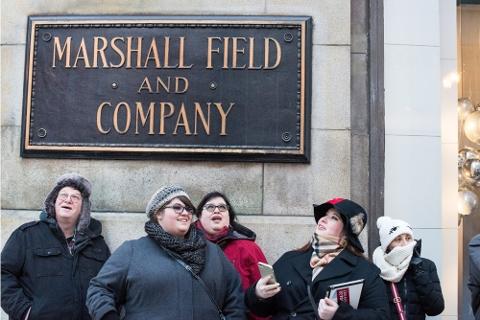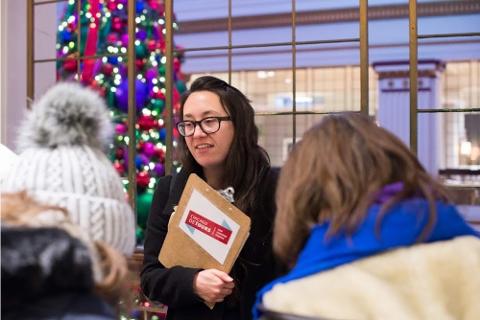 期間: 180 分 (約)
所在地: Chicago, IL
製品コード: UC - HOLIDAYTOUR
On this exclusive holiday tour for UChicago Alumni, we'll see some classic Chicago holiday traditions and hear off-the-beaten path stories that you expect from Chicago Detours. Instead of whizzing by Christmas lights from a bus, we'll walk (in mostly-heated indoor spaces) to fully enjoy the spirit of the holidays in downtown Chicago. We'll venture into a few cozy locales and talk history over a couple drinks. Non-drinkers are more than welcome, too, as this is more than a bar tour.
HOLIDAY TOUR OF DALEYS, DEAD GUYS AND DRINKS DETAILS
Join fellow University of Chicago alumni on a historic downtown tour that shares classic holiday traditions, surprising stories and unique sights. Chicago Detours Executive Director and UChicago alumna Amanda Scotese will lead the walking tour. Special for this tour, we are offering a discounted tour price of $34.
We have some inside stories on our Chicago holiday tour! Hear about how Mayor Richard J. Daley saved the Christmas Parade, and then how his son, Richard M., was almost awarded a stocking of coal for his affront to the holidays. Your Chicago tour guide will share the story of Rudolph the Red-Nosed Reindeer's birth in Chicago. We'll even have an overview of the development of consumerism for Christmas. This is not your typical holiday lights tour of Chicago!
The holiday tour has some classic experiences, too. We'll go into the former Marshall Field's Department Store, where Chicago holiday traditions have a rich and long history. Those who want to purchase drinks have a choice of a beer from the local Revolution Brewery or a glass of wine. While enjoying those drinks, you'll gaze at the giant holiday tree in the historic Walnut Room and discover forgotten stories and make new memories. We'll also consider nostalgia for old Chicago with a view of the holiday- and not-so-holiday-lights on State Street. The holiday tour ends across the street from the Christkindlmarket, where you can choose to explore on your own and perhaps get a hot German mulled wine!
Please be aware that these locations have crowds during this holiday season, so we'll have to navigate crowds and there may be waits to get our drinks. Because it is difficult to predict the traffic flows, the duration of the walking tour will be between 2.5 and 3 hours.
WHY BOOK THIS HOLIDAY TOUR WITH CHICAGO DETOURS?
Who wants to listen to a volunteer tour docent rambling a bunch of memorized dates and names? Not us! Our expert Chicago tour guides are highly trained, smart, fun and passionate about Chicago architecture and history.
In business since 2010, we are proud to be a top-rated Chicago tour company with five-stars on Yelp and TripAdvisor. Many of our Chicago architecture walking tours integrate historic bars, food, and music history. We hope you'll join us to explore stories and places locals don't even know, both downtown and in Chicago neighborhoods!
While we can't predict the weather, we can promise you won't get too cold! We do walk outside for 5-10 minutes at a time, so please do bundle up.
Our events with UChicago alumni sell out quickly. This is limited to 14 guests. We advise you to book asap if interested! OR IF YOU CAN'T MAKE IT, WE OFFER THE TOUR REGULARLY TO THE PUBLIC. SEE PUBLIC TOUR SCHEDULE HERE.
We hope you'll join us. You'll get to meet the ever interesting community of UChicago alumni! Book your tour now as our events with the University of Chicago Alumni Club have all sold out.
If you're curious about Amanda's background, read more here or connect on LinkedIn.
HIGHLIGHTS:

Historic Miller's Pub
Palmer House Hotel
Holiday lights on State Street
Macy's Department Store
The Chicago Christmas Tree in Millennium Park
Chicago Theatre and its Famous Marquee
Christkindlmarkt in Daley Plaza
STORIES AND IDEAS:
Sip a local brew while gazing at the Macy's Holiday Tree
Understand the artistry of department store window displays
See the Muddy Waters mural and discover the Chicago blues connections to Xmas
Hear the story of the "Christmas Tree Tragedy"
Learn of the cute gimmicks of holiday seasons past and a history of consumerism
Drink a "Tom and Jerry" cocktail at the historic Miller's Pub
INCLUDED:
Expert tour guide commentary
Shared use of iPads with historic photos
Candy gift
Printed Pedway map
Reservation Does Not Include:
Drinks: Guests bring $25 cash to cover two drinks and server gratuities. Drinks include a holiday cocktail and a glass of wine or local beer.
Tour guide gratuity or giving program donation.